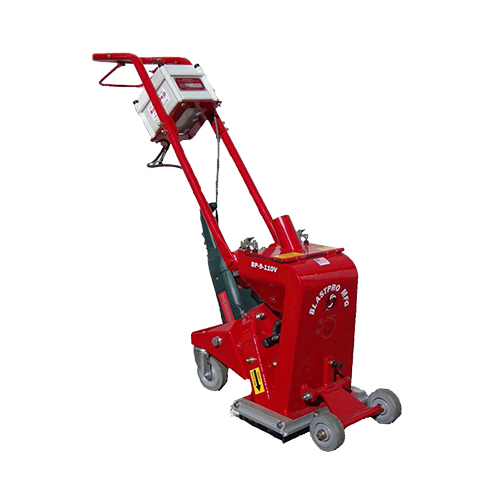 Description
The BP-9-110V is an affordable, highly portable, lightweight shot blaster used to prepare concrete prior to the application of paint or coatings. It is perfect for smaller jobs such as residential garage floors, pool decks, and small industrial floors. With a manual travel speed and a 9 inch blast pattern, this machine is also ideal for tight spaces and is a complimentary unit on larger jobs for edges. The BP-9-110V strips, cleans, and profiles in one easy step, making it a cost-effective labor and time-saving cleaning system for small to medium sized jobs.
Advantages
Lightweight unit is easy to handle and transport
All components are domestically manufactured
Same-day shipping on replacement components
UL508A manufactured control panel
Rugged 50 ft., wear-resistant 12/3 electrical cord
Operates virtually dust-free when connected to dust collector
Time-saving shot blasting process that strips, profiles & cleans in one step.
Cost effective and friendly to the environment
CALL FOR SALES & RENTALS
BlastPro believes that a combination of great customer service and quality equipment is the key to building a strong, competitive and successful company.