BP-505 Versatile Modular Shotblast Cleaning System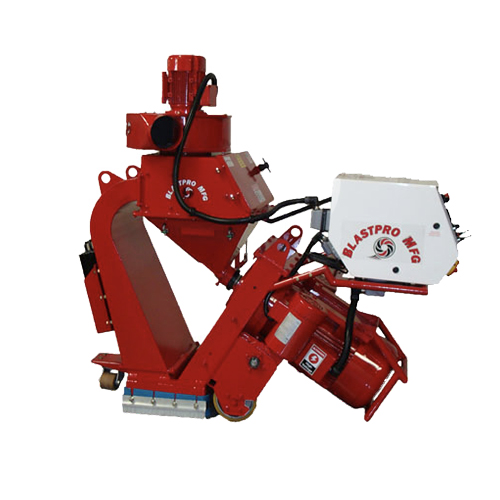 Capacity
SSPC-SP6 825 - 1,200 Sq ft / hr
SSPC-SP10 425 - 800 Sq ft / hr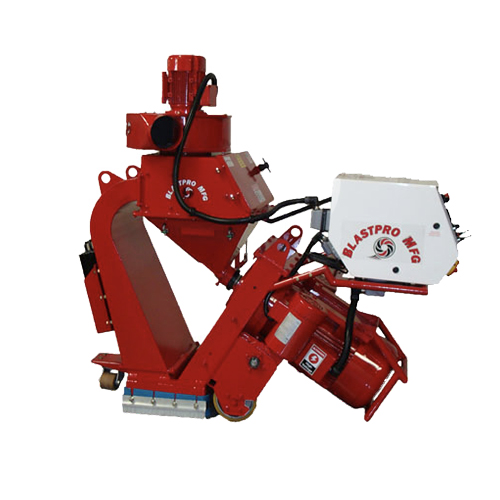 Description
The BlastPro BP-505 shot blasting machine is designed to clean steel and features modular construction that allows the machine to be dismantled and fit through a 24" manhole. The BP-505 is the most environmentally friendly and cost effective way to clean and profile horizontal steel surfaces that also facilitates the immediate application of coatings. It features independent drives for each wheel which offers better turning capability.
Production Capacity: SSPC-SP6 825-1,200 Sq ft / hr
SSPC-SP10 425-800 Sq ft / hr

Blast Pattern: 20"

Travel Speed:0-50 ft/min
Blast Motor: 30 hp
Voltage: 400/440/480 3 phase

Amperage: 50-60 Hz 32 amps

Specifications
Production Capacity - SSPC-SP6 825-1,200 Sq ft / hr
SSPC-SP10 425-800 Sq ft / hr
Blast Pattern - 20"
Travel Speed - 0-50 ft/min
Blast Motor - 30 hp
Voltage - 400/440/480 3 phase
Amperage - 50-60 Hz 32 amps
Minimum Generator - 75 kw
Dimensions - 68" x 29.5" x 65"
Weight - 2200 lbs
Power Cord Length - 100 ft
Seals - Floating, Urethane, Neoprene and Brush System
Distance to edge - 4"
Dust Collector - BP-9-54 Steel
BlastPro BP-505 Advantages
• The equipment and all wear parts are manufactured in the U.S.A and there is typically no lead time when ordering parts
• The electrical box and electrical components are engineered and constructed by a UL508A Panel Facility
• Electrical enclosures are built to NEMA 4 specifications
• The positive sealing shot valve prevents shot from leaking even when using very small shot
• The interlocking liners protect the blast housing and reduce wear
• The sliding cleanout drawer is designed to quickly and easily remove debris from the shot hopper
• The improved separation system keeps shot cleaner and increase the life of wear parts
• The type W 4/4 electrical cord is the toughest and most wear resistant cord available.
CALL FOR SALES & RENTALS
BlastPro believes that a combination of great customer service and quality equipment is the key to building a strong, competitive and successful company.