Pioneers of the Shot Blasting Manufacturing Industry
In 1969 R.T. Nelson Painting Service, a large industrial painting contractor, was painting the interior of the Western Electric plant in Oklahoma City, OK where R. T. Nelson watched steel beams being cleaned in a stationary shotblasting machine. R.T. was impressed by the level of cleanliness achieved through shotblasting as well as the lack of cleanup required as compared to open blasting. R.T. realized that a portable shotblasting machine would be an ideal surface preparation tool.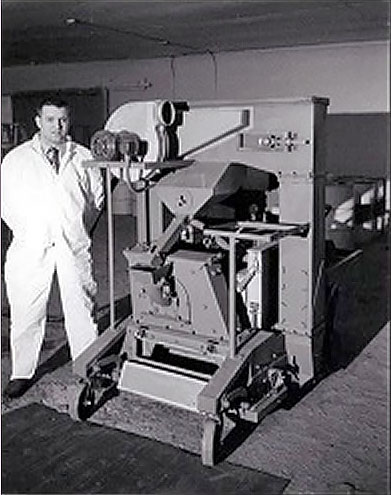 4
HEPA Filtration Solutions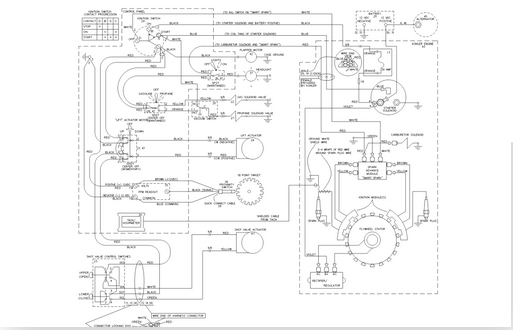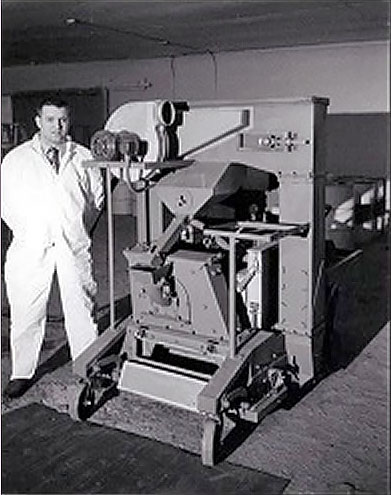 The Invention of
"Bertha"
After learning the stationary shotblasting machine was manufactured by Wheelabrator and that Wheelabrator did not manufacture portable shotblasting equipment R.T. hired Jim Goff, a young engineer that had worked for Wheelabrator. Jim engineered and built the first portable shotblasting machine in Mishawaka, IN and later moved to Oklahoma City with his family. The machine was 6' tall, weighed 2,500 pounds, had a 30 horsepower electric motor, a center feed blast wheel, and was named "Bertha". Jim received patent #3,691,689 for his invention on September 19, 1972.

R.T. Nelson went on to found Nelco Manufacturing, Inc. where he manufactured portable shotblasting equipment until his death in 1994. Jim Goff went on to found Goff Corporation where he manufactured portable and stationary shotblasting equipment until 1991 when he sold the company. Today, Jim owns Coyote Enterprises, Inc. where he continues to be an innovator in the abrasive blasting industry.

Jim is also a friend and consultant to BlastPro® Manufacturing, Inc. which is owned by Michael R. Nelson, R.T. Nelson's son. BlastPro® is privileged to be the only portable shotblasting equipment manufacturer to use Jim Goff's patented RimLoc blastwheel system in its portable shotblasting equipment. According to Jim, "Mike Nelson has been involved in the portable shotblasting industry since day one and BlastPro is manufacturing the highest quality portable shotblasting equipment on the market today. As a result, I thought BlastPro® was the right company to use my RimLoc blastwheel technology. This technology greatly increases the productivity of portable shotblasting equipment while lowering maintenance costs and decreasing downtime. There is no doubt that BlastPro is manufacturing superior portable shotblasting equipment."

While many people claim to be the first to manufacture the portable shotblasting machine now you know the real story.
CALL FOR SALES & RENTALS
BlastPro believes that a combination of great customer service and quality equipment is the key to building a strong, competitive and successful company.