BP-10-SUPER
Self-Propelled Portable Shot Blaster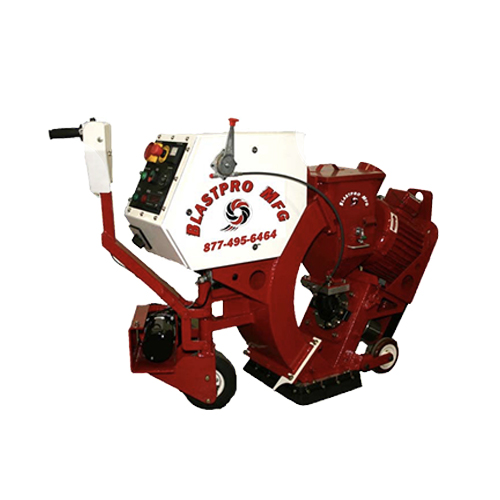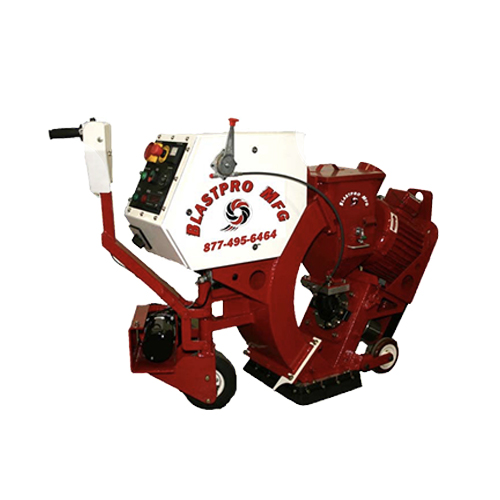 Description
The BP-10-SUPER is designed for medium to large jobs including industrial plant and warehouse floors, parking garages, bridge decks, ship decks, and other
horizontal applications. The BP-10-SUPER is an electric, self -propelled, walk behind machine with a 10 inch blast pattern. It features high quality electrical components, an advanced air wash separation system, and operates on 208V, 230V, or 460V, 3 phase power. The BP-10-SUPER travels up to 100 ft. per minute and has a production capacity from 300 ft2/hr to 1,550 ft2/hr*. When coupled with the BP-9-54 dust collector, the BP-10 Super-2 is a powerful option for your surface preparation needs.
Advantages
AC inverter controlled drive motor maintains a constant speed on inclines and declines providing better control of the blasting process
Integrated brake holds the BP-10-SUPER in place when idle
Blast motor soft start device dramatically reduces mechanical start-up vibration and required start-up current draw
Easily accessible panel controls
High Speed, Heavy Duty Bearing Unit
Precision Manufactured Liner Package
High speed bearing unit contains replaceable bearings which reduces operating costs and down time
All components are domestically manufactured
Same-day shipping on replacement components
UL508A manufactured control panel
55 ft. tough, wear resistant type W 6/4 electrical cord
Operates virtually dust-free when connected to dust collector
Time-saving shot blasting process that strips, profiles & cleans in one step
Cost effective and friendly to the environment
CALL FOR SALES & RENTALS
BlastPro believes that a combination of great customer service and quality equipment is the key to building a strong, competitive and successful company.