BP-2-30-SUPER
Self-Propelled Portable Shot Blaster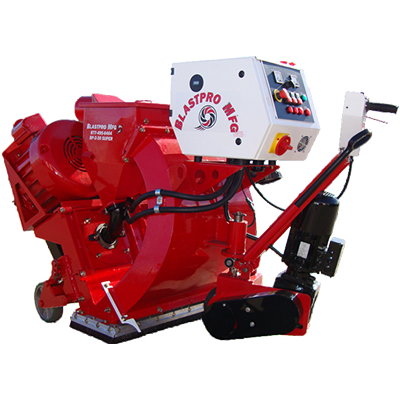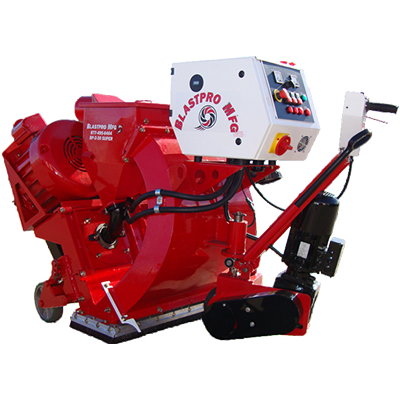 Description
The BP-2-30-SUPER is designed for medium to large jobs including industrial plant and warehouse floors, parking garages, bridge decks and other horizontal applications. The BP-2-30-SUPER has an impressive 30" cleaning path for class leading production on large jobs. The drive system features the new AC inverted drive motor with an integrated brake system that allows it to maintain speed on incline and declines for precise control. The BP-2-30-SUPER features a high speed travel switch which allows the machine to be quickly re-positioned without adjusting the speed potentiometer setting. The blast motor soft start device dramatically reduces mechanical start up trauma and reduces start up current, and the dual shot valve control handles allow the operator to independently control amperage on each blast wheel. The BP-2-30 Super incorporates the rear caster quick lift design for easy transport loading and offloading.
Advantages
Ultra-high Production Output
The equipment and all wear parts are manufactured in the U.S.A and there is typically no lead time when ordering parts
The electrical box and electrical components are engineered and constructed by a UL508A Panel Facility
Electrical enclosures are built to NEMA 4 specifications
The positive sealing shot valve prevents shot from leaking even when using very small shot
The interlocking liners protect the blast housing and reduce wear
The sliding cleanout drawer is designed to quickly and easily remove debris from the shot hopper
The improved separation system keeps shot cleaner and increase the life of wear parts
The high speed bearing unit contains replaceable bearings which reduces operating costs and down time
The type W 4/4 electrical cord is the toughest and most wear resistant cord availabl
CALL FOR SALES & RENTALS
BlastPro believes that a combination of great customer service and quality equipment is the key to building a strong, competitive and successful company.