BP 9 220V - Shotblast Cleaning System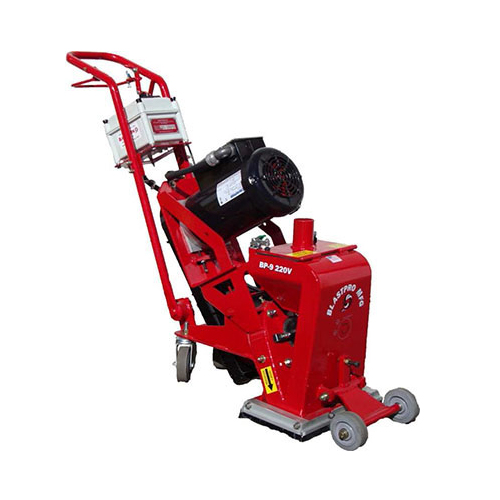 Capacity
100-375 sq. ft/hr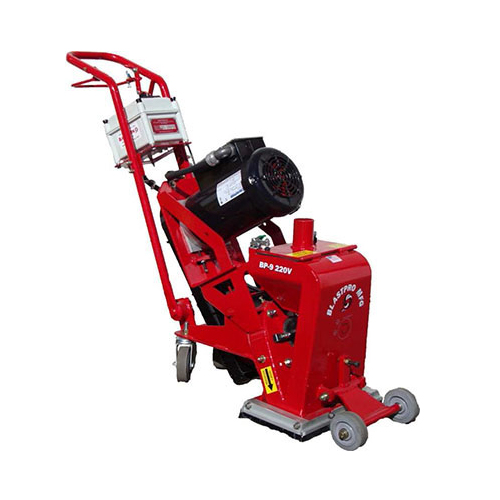 Description
The BP-9-220v is an affordable 220 volt single phase blast cleaning system. It is designed for small to medium size jobs as well as being a complementary unit on larger jobs for doing edges and other hard to reach areas. The BP-9-220v has a 9" blast pattern, is portable, lightweight, easy to use, and is ideal for garage floors, balconies, basements, pool decks, and edges.
Production Capacity: 100-375 sq. ft/hr

Blast Pattern: 9"

Travel Speed: Manual Blast Motor - 3.35 hp
Voltage: 208V/230V

Amperage: 11.8 max

Specifications
Production Capacity - 100-375 sq. ft/hr
Blast Pattern - 9"
Travel Speed - Manual Blast Motor - 3.35 hp
Voltage - 208V / 220V
Amperage - 11.8 max
Minimum Generator - 15 kw
Dimensions - 47" x 12" x 39"
Weight - 178 lbs
Power Cord Length - 50 ft
Seals - Magnetic / Brushes
Distance to edge - 1.5"
Dust Collector Required For Operation
BlastPro BP 9-220V Advantages
Highest Quality
Lightweight Portability
High Manuverability
Competitive Pricing
24/7 Customer Service
Replacement Parts, All Brands
CALL FOR SALES & RENTALS
BlastPro believes that a combination of great customer service and quality equipment is the key to building a strong, competitive and successful company.